Here are our FAQ's. If you have any un-FAQ's please call us at 310-260-9039, or you can use the contact feature at the bottom of the page.
Where should I park?
---
There is free parking in the rear of the building. While there are several ways to enter the lot, the easiest is to enter from Lincoln coming from the north, just after Wendy's. There are seven parking spots labeled PHYSICAL THERAPYWORKS at the northeast corner of the lot, right off of Lincoln. For those of you interested in public transit, the 704 Metro Rapid Line stops right across the street, and if you'd rather take the train the Expo Line's final stop at 4th and Colorado is a short ten minute walk away. Finally, for the bicyclists, we installed a bike rack outside our rear entrance just for you!
---
What should I wear to my appointment?
---
Choose clothing that is comfortable. You need to be able to move freely. Garments should also allow access to the affected body parts.
---
Do I need to bring anything?
---
Most patients will complete their paperwork and submit their prescription and a copy of their insurance card in advance of their appointment via our online intake system.This is our preferred method, as it allows us to check your benefits in advance and let you know if there are any coverage issues you should be aware of. If you haven't completed the forms online, please bring the following to your initial appointment: - Your prescription: Please have it in hand or, if you asked your doctor to fax it, call and confirm that we have received it in advance of your appointment. - Your insurance card. - If you didn't do the paperwork online, we will provide you with the forms when you arrive. They must be completed prior to your appointment, and we tend to run right on time, so please arrive at least 30 minutes in order to avoid running into your appointment time.
---
How long will my appointment be?
---
For your first visit, expect to be here for up to 90 minutes. Each subsequent visit will typically last somewhere between 40 and 75 minutes.
---
What if I want to be seen on an out of network basis?
---
If you don't want to feel encumbered or limited by insurance company allowances, our sister company, PTWorks+, provides out of network care for patients who want to receive physical therapy that isn't dictated by the authorization requests or time and visit restrictions imposed by their insurance company. Through PTWorks+, we also provide wellness and performance services that can be integrated with your therapy or utilized on their own - such as personal training, Feldenkrais, holistic health counseling, massage and meditation.
---
How do I share feedback about my experience?
---
We don't take client satisfaction lightly. That's why we regularly solicit feedback from our patients and consistently strive to optimize our services and provide you with gold-standard care. Family. Welcoming. Warm. Attentive. Trust. Expert. Healing. Energy. Results. These are just a few of the ways our patients have described Physical Therapyworks. Our clients regularly express that they are highly satisfied with our services, and I want to make sure that you feel the same way. If at any time we are not meeting your needs or expectations, please reach out to me directly at john@physicaltherapyworks.com and let me know.
---
How does physical therapy billing work?
---
To learn more about how physical therapy insurance billing works, please click here.
---
What is your privacy policy?
---
Please click here to view our privacy policy.
---
Can I integrate other treatments like personal training into my PT program?
---
Long before things like Pilates or Meditation were trendy or cool, we had them! These services, as well as Personal Training, Massage, Feldenkrais, and Holistic Health Counseling, can be received independently or integrated with your Physical Therapy via PTWorks+. We're confident that we not only have the best practitioners from each respective discipline, but as an added bonus if you choose to integrate your Wellness and Performance program with your Physical Therapy - or get your program customized via our Comprehensive Biomechanical Analysis - you'll get the absolute most and best out of each session, with no waste, fluff or deleterious effects. Get to know our Wellness and Performance Team here.
---
How do I enter the clinic?
---
There are two entrances into the clinic: If you would like to use our Santa Monica Blvd entrance, please exit the parking lot and walk south to Santa Monica Blvd, then turn right and proceed to 719 Santa Monica Blvd. The other entrance is off the parking lot. If you exit your car and walk west, on your left you will see our "physical therapyworks" sign. To use this entrance you must descend several steps, so do not use this entrance if you have any concerns or difficulties with gait or balance.
---
What has been your clinic's response to COVID-19?
---
Here at Physical Therapyworks, we are and have been taking the COVID-19 outbreak seriously and monitoring it closely. The health and safety of our patients, clients, and staff is our top priority.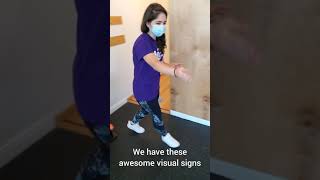 We have always taken pride in following CDC guidelines in providing a clean and healthy rehabilitation and fitness environment. We're a Santa Monica Shines Assured business, which means going above and beyond regarding COVID-19 safety protocols to make sure you are as safe as possible when you visit. Since this outbreak our responsibility as healthcare providers has been to ramp up our cleaning protocols and frequency, upgrade our cleaning products to CDC approved COVID-19 cleaners, and ensure that all commonly touched surfaces (doorknobs, sink handles, stair rails etc) throughout the clinic are regularly disinfected. All equipment and touched surfaces are subject to deep cleaning on a regular and frequent basis. All frequently touched surfaces in the bathroom are cleaned after each patient use, and there are 8 air purifiers with HEPA filters and UV lights operating in the clinic. Our staff have all completed the Santa Monica Shines online training on COVID-19 awareness and customer service. We have had an on-site walk-through of our clinic with a member of Santa Monica's Sustainable Works. Additionally we have agreed to receive protocol updates and new content through micro-courses and micro-lessons to promote on-going awareness of the evolving pandemic and keep safety top-of-mind. All patients are queried as to whether or not they have a fever or cough, and whether they have been in contact with anyone that has the COVID-19 virus. All patients are required to wear a mask and thoroughly wash their hands upon entering the clinic (please bring your own mask if you have one). Hand disinfectant/sanitizer is available at both clinic entrances. All staff are also wearing masks and of course are washing/disinfecting their hands between each patient and after contacting commonly touched surfaces. Social distancing is also being enforced throughout the clinic. Private rooms are used as is appropriate.

We encourage everyone that's part of our Physical Therapyworks family to help stay healthy by following these best practices: -Wash your hands often with soap and water for at least 20 seconds, especially after visiting the restroom; before eating; after blowing your nose, coughing, sneezing or touching your face -Avoid touching your eyes, nose, and mouth with unwashed hands -Please stay home if you are feeling unwell -Cover your cough or sneeze with a tissue, then discard the tissue in the trash -Support your immune system with plenty of water, a healthy diet, adequate sleep, and exercise
For more information on COVID-19 resources and news updates:
U.S.: Centers for Disease Control and Prevention
Canada: Public Health Agency of Canada If you are sick (even for mild illnesses), as much as we love you all, we are asking that you stay home and help keep others from getting sick. Please give us a call and we will gladly reschedule you! Please know that we also offer Telehealth Visits. For more information regarding Telehealth, please click here. Your wellbeing is our top priority. Thank you all for your continued support. We know that if we work together we can get through this together.
Sincerely,
Your Physical Therapyworks Team
---
---